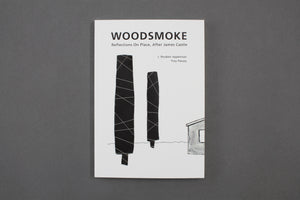 Boise City Department of Arts& History
Woodsmoke
Regular price
$14.95
$0.00
Unit price
per
Poetry by J. Reuben Appelman
Artworks by Troy Passey
5 ½ x 8 inches, 63 pages
Published by City of Boise and Boise City Department of Arts & History, 2018
Serving as a testimony to the life and work of American artist, James Castle, Woodsmoke is a reflection on the passage of time and the history, memory, and architecture of the James Castle House at 5015 Eugene Street, in Boise, Idaho, USA, where much of Castle's work was created.  
Together, Appelman and Passey create minimal compositions in honor of place, space, and the James Castle legacy. 
Writer, J. Reuben Appelman is a State of Idaho Literature Fellow and author in multiple genres.  Appelman's poetry, here and elsewhere, explores the uncommon image through a construction of juxtapositions saturated in everyday itemization. His book, The Kill Jar, is published by Simon & Schuster (2018).  
Artist, Troy Passey uses words as found objects. His text-based art is gleaned from literature, lyrics, and the poetry of plainspoken speech.  Passey's allusions to the natural world recall the vistas of his youth spent on a farm in Paris, Idaho. 
---