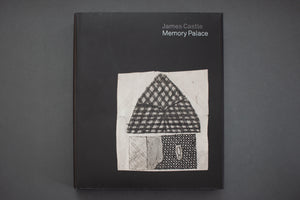 Ingram ipage- Yale University Press
James Castle: Memory Palace
Regular price
$65.00
$0.00
Unit price
per
Brief Description:
"American artist James Castle inhabited a world of utter quiet, where the mundane became miraculous. Born to a family of homesteaders in the mountains of central Idaho in 1899, he was deaf from an early age. Perhaps not coincidentally, he developed an extraordinary visual and spatial memory. This gave him a dictionary of images of his home, farm, and valley that he replicated and manipulated for the rest of his life in a series of extraordinary soot and saliva drawings. Castle's particular environment and experience gave him access to other, more surprising sources for his art. His parents ran the local post office and store, which supplied an array of images from burgeoning early twentieth century print culture. He collected scrap paper and cardboard, which he cut up and stitched together into farm animals, furniture, and clothing. Castle spent several years at a school for the deaf, where he picked up only the rudiments of language. But he used his knowledge of letters, words, and multiple alphabets-some of his own devising-to create an arresting range of enigmatic text-based drawings. In this book, author John Beardsley delves into Castle's work as an expression of his acute capacity for remembering, managing, and improvising on visual information. Castle's work will be presented as if moving through a series of environments: inside, outside, landscape, figure, book. This allows us to imagine the visual and spatial world Castle inhabited. This publication will also be the first to include a definitive biography of the artist"--


Biographical Note:
John Beardsley is an author, curator, and educator.


Publisher Marketing:
A fascinating new look at James Castle, an extraordinary self-taught artist, whose deafness led to an acute visual awareness and near photographic memory that he called upon throughout his life.
Yale University Press
---